Teach Your Children the Faith Like a Boss!
We have ONE mission as mamas, getting our children into heaven! But life is busy, there's a 1000 things pulling away our attention, like cleaning clothes and making dinner, so the big picture can get lost in the weeds.
That's why I created A Real Mom's Guide to Teaching the Faith. I'm going to help you cut through the chaos - to not only learn to teach the Faith yourself, but to instill a love and excitement about the Catholic Faith in your children.
In A Real Mom's Guide to Teaching the Faith, I'll walk you through the process of creating meaningful moments of faith with your children.
With fun and engaging videos filled with examples, you'll be on your way to creating your own beautiful moments of faith!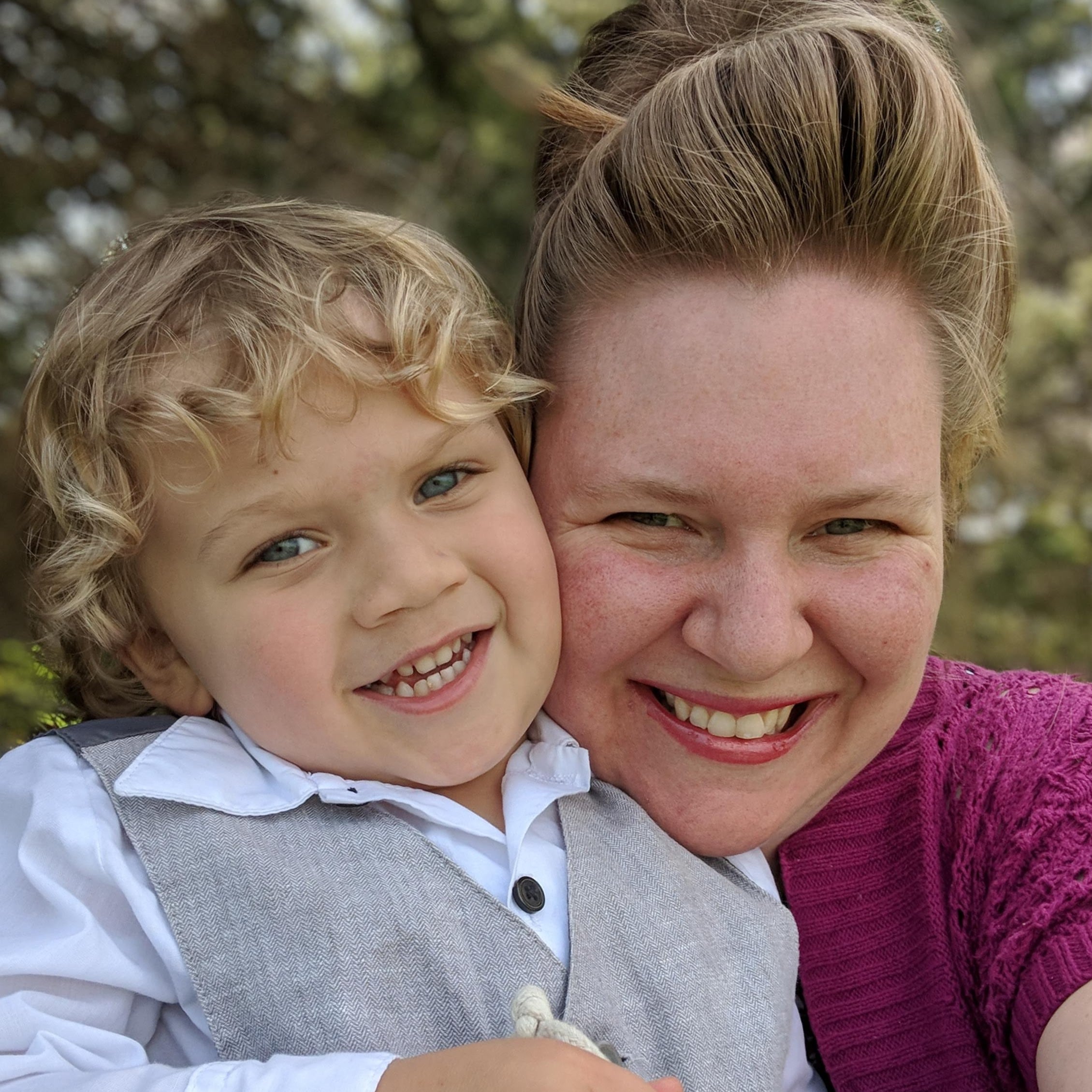 Hi, I'm Theresa
I'm an expert at teaching children about the Catholic Faith. Here's how I can help you!
God has blessed me with the ability to create whimsical and engaging stories, and I love using that gift to share the Faith. I've been teaching children about the Faith since I was 10 years old and started helping to teach Bible School instead of attending.
I didn't stop there. I shared my joy for life with hundreds of low-income children at fun and interactive programs I created during my summers in college to help inspire them. I attended Franciscan University of Steubenville to pursue a TV/Radio Communications degree, because I wanted the skills to help me share the Faith. Not just with those right around me, but across the country and the world. And I did! While still in college, I launched a podcast to encourage teens in their faith that was downloaded millions of times all over the world.
In all these moments, I learned how to excite and engage with children. But most importantly, I learned how to inspire a vibrant love for God and the Catholic Faith!
Now, as a mom of three beautiful, but rowdy and rambunctious boys, I have created My Catholic Kids with fun products like Fishing for Saints, and My Jesse Tree Sticker Set to help inspire children in the Faith.
During this process, I've heard from many mamas that they want more. That they would love to know how I create epic saint stories at night. They need guidance on where to start with teaching their little ones things like the Sacraments, or celebrating the Liturgical Year.
That's why I created A Real Mom's Guide to Teaching the Faith. To help amazing mothers learn from my successes - and failures - of creating meaningful moments of faith with my kids.
A Real Mom's Guide to Teaching the Faith gives you everything you need to share meaningful moments of faith with your little ones. Everything is focused on making teaching the Faith a success for you.
How It Works
A Real Mom's Guide to Teaching the Faith comes in the form two online sessions each month. But don't worry. This is for real moms. So they're not super long sessions and hours of homework. Instead, I get right to the point and give you the good stuff every month in easy peasy snackable video sessions. Here's what's includes.
Monthly Video Session - Once per month, you'll receive an inspiring video lesson that will equip you to discuss a topic about the Catholic Faith with your kiddos.
Monthly Live Session - Once per month, I'll teach a live lesson. You'll be able to chat and interact with me live as I explain how to create a meaningful moment of faith with your little ones on a predetermined topic. Each live class will be recorded so that you can watch it later if you can't make the live times.
Ask Questions & Get Inspiration - I'm here for you! You will always have the opportunity to ask questions and share your struggles and successes. I'll cover the answers to questions and share inspiring stories from others in the program, either during the sessions or in additional videos or messages throughout the month.
About the Sessions
Topics
Each session topic will cover an important part of the Catholic Faith that will build a solid foundation for the faith life of your children. Many of the session topics will be about the current Church season so that your children will always appreciate the deeper meaning behind each season.
Example
Session Topic: St. Michael

Who Is St. Michael? How praying to him him will help protect your children
A story of St. Michael that you'll use to teach your kids
How to tell his story to your children. What to focus on and answers to questions your children might ask
Starting Session Schedule (tentative)
Here's what I'm planning on starting with, but I can't wait to hear what YOU want to teach your kiddos about! Make sure you take the survey once you register!
February 2019
How St. Valentine Helped Save Families [live session]
How to Celebrate the Liturgical Year When You're Stuck In Ordinary Time [video session]
March 2019
How to Create a Lent that Your Kids Don't Dread
Jesus is Coming! Mary's Big News from Saint Gabriel (The Annunciation)
April 2019
Helping Your Kiddos Dive into Holy Week
Swimming In an Ocean of Mercy (Divine Mercy Sunday)
May 2019
Easter Is a Whole Season - Let's Keep Celebrating!
It's Time to Crown the Queen of Heaven and Earth
This course is not open for enrollment.
Who This Is For
If you're a mom who is living the picture perfect faith life this probably isn't for you. But if you're a busy mom who doesn't have it all figured out and sometimes misses those basic moments of faith, this could DRAMATICALLY change your life!!
What You'll Achieve
Year after year, you'll reach faith milestones with your children that you may never have achieved on your own. Here are just a few of the ways you'll get there.
You'll Engage Your Children In The Faith Through Stories - Stories capture the hearts and imaginations of children, and with my help, you'll tell masterfully ones that your kids will cherish and remember.
You'll Help Your Children Understand The Liturgical Seasons Every Year - Kids don't always know enough to appreciate the liturgical seasons. With my help, you'll help them to both understand and appreciate each season.
You'll Regularly Share Meaningful Moments of Faith with Your Children - Moments like these can be remembered forever. Let your kids grow up knowing that their mother was at the center of their deep and lasting faith life.
You'll Gain a Deeper Appreciation and Understanding of the Faith Yourself! - As you teach these concepts to your children, you will grow richer in your own faith life as well.
Teaching Your Kids The Faith Doesn't Have to Be Hard
Stop waiting for the perfect moment to teach the Faith and get started today!
Teaching the Faith to your kids doesn't have to be hard! It doesn't have to be a boring chore for your kids and it doesn't have to be something that you do by yourself. We can do it together. I'll be by your side month after month, year after year, as your kids grow to be knowledgeable, enthusiastic, and fervent for God.
Sign-Ups Close February 7, 2019 at 6pm EST
Don't Miss Out!
Don't let this moment pass you by! We're keeping A Real Mom's Guide to Teaching the Faith exclusive, so you'll only be able to sign up for it for a limited time. After the last sign-up day, it'll be months before we're able to reopen, so now's your chance!
Don't let your mom guilt about teaching the Faith to your kids continue to build for another second. Don't continue to struggle with what you don't know or what you're not good at any longer. And don't continue to worry about whether your kids will grow up caring about their faith. You can make it happen. And I can help you. Let me be your guide and your cheerleader through A Real Mom's Guide to Teaching The Faith.
Sign up now, and I'll see you inside!
This course is not open for enrollment.
Frequently Asked Questions
What age should my kids be for me to sign up?
The sessions and stories will be geared toward Catholic mothers of children from ages 2 - 8.
When will the live sessions be, and what if I can't make it?
The live sessions will be once per month. The first live session is Thursday, January 31 at 9:00pm EST. After that, I will announce the time of the following sessions ahead of time by email. I'll try to use times that work best for everyone's schedule, but if you can't make it, don't fret. They will be recorded and you can play them back after the fact.
This course is not open for enrollment.